History
Many popular sounds from the early 1970's and beyond, are due to collaborations between Synthetic Sound Labs and musical greats such as Manfred Mann, David Sancious, Chick Corea, Michael Urbaniak, Tom Coppola and others. We hope you find the brief glimpses below enjoyable and informative.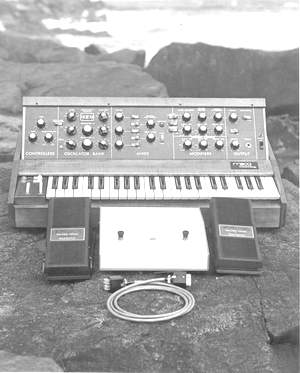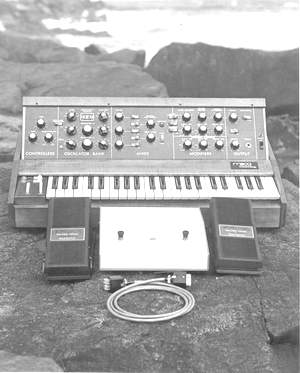 This popular MiniMoog modification accepts spring return pitch bend and modulation pedals. The sloped box houses foot switches to control glide, sustain and optional echo.
A single cable made all connections from the instrument to the pedal controls, making rapid setup a snap. Roadies loved this.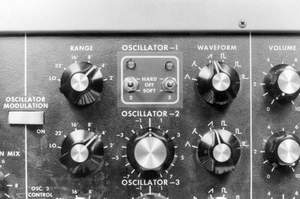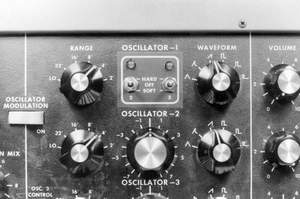 Tuning lights – Live performance musicians appectiate being able to tune oscillators by eye. How? The pulsation of the lights exactly relates to the beats of the oscillators.
Sync Switches – While common on today's synths, another popular modification added sync switches. Sync switches allow the musician to create wild screaching and tearing sounds by synchronizing two oscillators at harmonic / sub-harmonic intervals.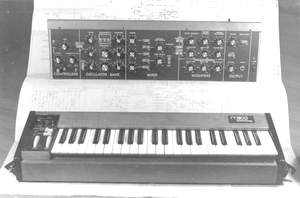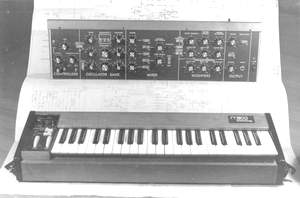 David Copperfield had nothing to do with chopping this MiniMoog in half.
In addition to allowing the musician complete freedom around the stage, a fourth oscillator was added to the left-hand controller area, as well as several other modifications.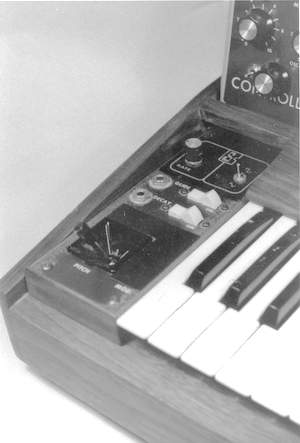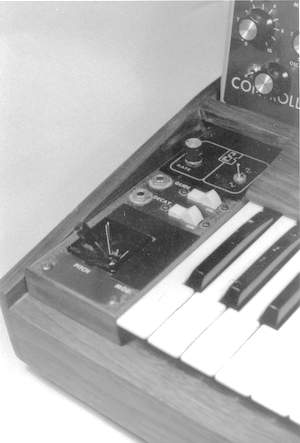 The standard MiniMoog wheel controllers were ground-breaking in their time, but this single joystick controller adds a new dimensions in ease-of-use. This image also shows a close-up of the popular fourth oscillator modification with the cabinet cutout.
This is an early photo of the infamous Coppola MiniMoog that produced (among others) the World Famous sound of the DuraCell battery. Here's a very early DuraCell (~1978 – this may have been the first TV commercial) video. The Mini really punches through on this one at the end. More info below…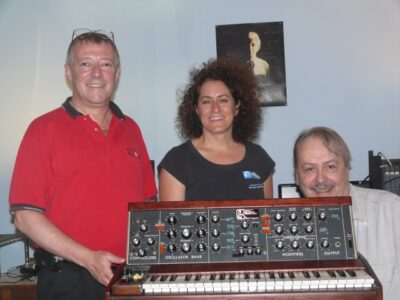 The infamous Coppola MiniMoog was resurrected after nearly 30 years of "declining health", and at the request of its owner Tom Coppola, was donated to the Bob Moog Foundation's Moogseum with enthusiastic welcome. Left to right: Doug Slocum (SSL), Michelle Moog, Tom Coppola.
Here are links to photos of the resurrection and its somewhat unofficial donation hosted at the Moog factory in Asheville, NC, with Bob Moog's daughter Michelle in attendance.
Taking off the "skin" to get to the bones.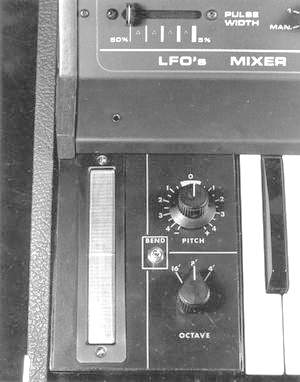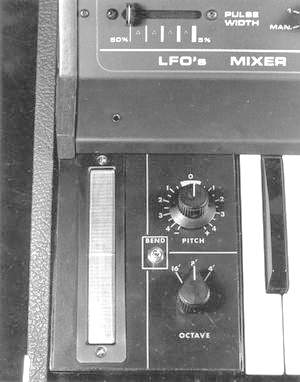 No synth of the time was safe from a mod or two. Here's a Crumar DS-2 with a MicroMoog ribbon controller.