History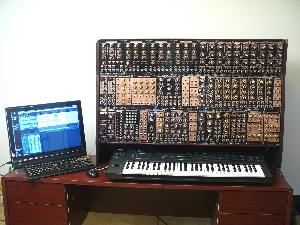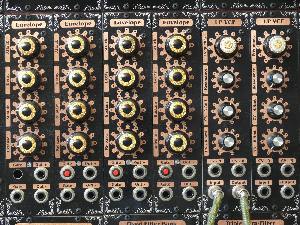 SteamSynth – Personal project of SSL's owner Doug Slocum, this large modular synth was inpired by the SteamPunk art movement and his love of old technologies. It's also the inspiration for this web-site's name.
The panels use black printed circuit board material, allowing real copper foil lettering. Standard knobs are decorated with buttons from a fabric store. Patch cords were hand made with cloth covered wire to complete the illusion.
The electronics behind the scenes are a combination of SSL custom designs, and those from YuSynth (Yves Usson), MFOS (Music From Outer Space), PAiA Electronics, Ken "Cat Girl" Stone, Marc Bareille – Papareil Synth Labs.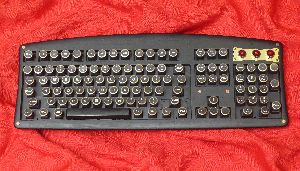 The PC keyboard was hacked with fabric store buttons and a brass plate that accentuates the retro-style jeweled lense function lights. The basic design was borrowed from a clever artist on the Internet.
Many popular sounds from the early 1970's and beyond, are due to collaborations between Synthetic Sound Labs and musical greats such as Manfred Mann, David Sancious, Chick Corea, Michael Urbaniak, Tom Coppola and others. We hope you find the brief glimpses below enjoyable and informative.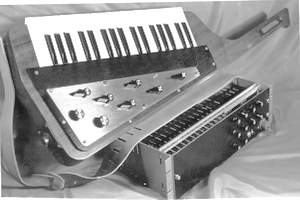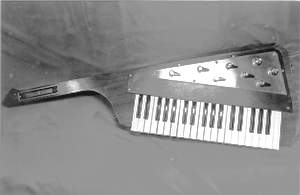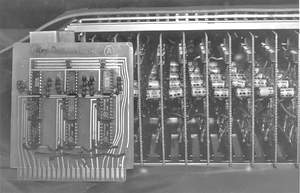 Probably the most ambitious project taken on by SSL in the late 1970's was the fully custom "Orphius" synthesizer. This machine featured:
fully polyphonic design
remote "wearable" 3 octave keyboard
pitch bend ribbon control
multiplexed keyboard and control signals
two independently tunable ranks
independently adjustable envelopes for eack rank
4-pole Moog style lowpass filter with ADSR envelope
switchable chorusing effects
rack mounted voice and control unit
Built for a musician in Staten Island NY, unfortunately its current location, owner and disposition is unknown.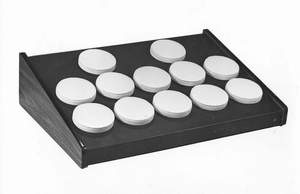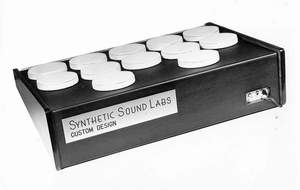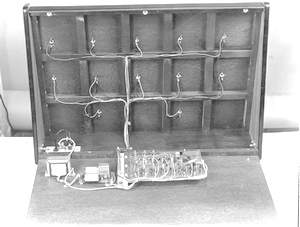 This custom drum performance synth was built for Jazz-fusion violinist Michael Urbaniak.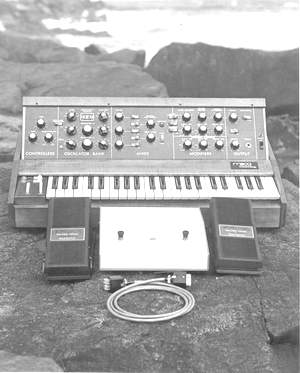 This popular MiniMoog modification accepts spring return pitch bend and modulation pedals. The sloped box houses foot switches to control glide, sustain and optional echo.
A single cable made all connections from the instrument to the pedal controls, making rapid setup a snap. Roadies loved this.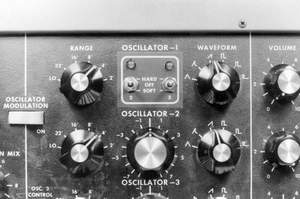 Tuning lights – Live performance musicians appectiate being able to tune oscillators by eye. How? The pulsation of the lights exactly relates to the beats of the oscillators.
Sync Switches – While common on today's synths, another popular modification added sync switches. Sync switches allow the musician to create wild screaching and tearing sounds by synchronizing two oscillators at harmonic / sub-harmonic intervals.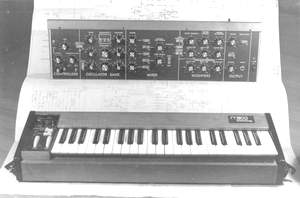 David Copperfield had nothing to do with chopping this MiniMoog in half.
In addition to allowing the musician complete freedom around the stage, a fourth oscillator was added to the left-hand controller area, as well as several other modifications.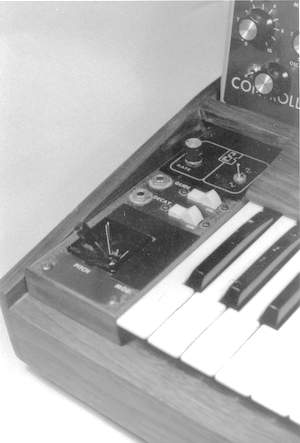 The standard MiniMoog wheel controllers were ground-breaking in their time, but this single joystick controller adds a new dimensions in ease-of-use. This image also shows a close-up of the popular fourth oscillator modification with the cabinet cutout.
This is an early photo of the infamous Coppola MiniMoog that produced (among others) the World Famous sound of the DuraCell battery. Here's a very early DuraCell (~1978 – this may have been the first TV commercial) video. The Mini really punches through on this one at the end. More info below…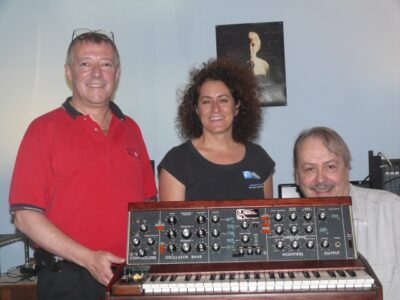 The infamous Coppola MiniMoog was resurrected after nearly 30 years of "declining health", and at the request of its owner Tom Coppola, was donated to the Bob Moog Foundation's Moogseum with enthusiastic welcome. Left to right: Doug Slocum (SSL), Michelle Moog, Tom Coppola.
Tom and his highly modified MiniMoog were responsible for many album tracks and commecials – including the iconic "DuraCell" battery sound.
Here are links to photos of the resurrection and its somewhat unofficial donation hosted at the Moog factory in Asheville, NC, with Bob Moog's daughter Michelle in attendance.
Taking off the "skin" to get to the bones.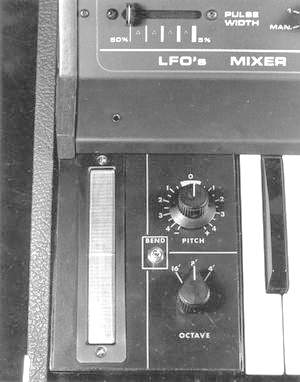 No synth of the time was safe from a mod or two. Here's a Crumar DS-2 with a MicroMoog ribbon controller.