Description
The DSP-G1 synthesizer is a chip that contains a full analog modelling MIDI synthesizer in an 8-pin DIP package.
The chip can be used as a voice chip for an analog synthesizer, either as standalone receiving MIDI from a keyboard or other MIDI source, or connected to another MCU used for programming and patch storage.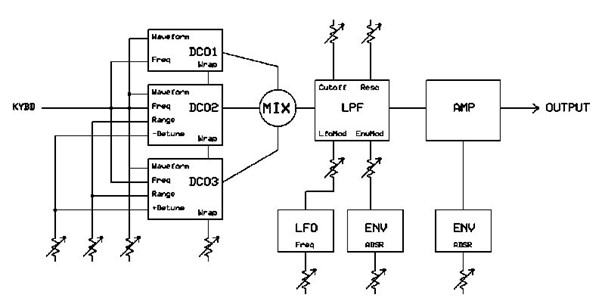 The synth is five voice para-phonic with three digitally controlled oscillators (DCO's) per voice for a total of 15 oscillators, a +24dB resonant lowpass filter, two ADSR envelope generators and a LFO with sine and sample & hold waveform.
The DCO's are TRI / PULSE / SAW morphing oscillators with range, detune and wrap parameters. The wrapping is a form of pulse width adjustment that works on any waveform.
The digitally controlled filter (DCF) is a digital model of a +24dB 4-pole filter and has a resonance setting that can be driven to near self oscillation. It has routing for ENV and LFO modulation.
Two envelope generators (ENV's) are standard ADSR type and modulate the DCF and the digitally controlled amplifier (DCA).
One LFO is provided for DCF modulation and has TRI or S/H waveforms.
The output is 44.1KHz Sigma-Delta DAC and the synth parameters are controlled through 19 MIDI-CC parameters.