Description
What has your synth been missing all these years?   Effects – damn it!
At last, an MU module that delivers 15 near studio-quality effects – All in just 2 MU width.   Oh Yeah!  Very sweet!
Reverb 1
Reverb 2
Reverb-Chorus
Reverb-Flange
Reverb-Tremolo
Sci-Fi Shimmer
Space Shimmer
Stavely Springs
Infinite Freeze
Reverse Reverb
Pitch Shift
Pitch-Echo
Flanger
Slocum Phaser
Frequency Shifter
Here's a PDF with more details:  FX Capacitor Program Descriptions
Select your effect using the Program knob, and the convenient LCD display will show the currently selected effect and it's parameters.  Up to three parameters (depending on the selected effect) that can be adjusted from the INIT controls on the front panel or voltage control them by using the CV-A, CV-B & CV-C inputs.
The FX Capacitor is built around the awesome Spin Semiconductor FV-1 chip (Spin Semiconductor).  The FV-1's seven built-in effects are already awesome, but SSL just couldn't stop there.  Oh no.  We had to add 8 more carefully chosen effects that will expand your sonic palette.
Space Shimmer is the brain-child of Gary Worsham.  Shimmer is a type of reverb that applies upward pitch shifting (usually by octaves) into the  feedback loop for some really ethereal sounds.
Stavely Springs is courtesy of Don Stavely.  Don has figured out how to accurately model some of the original dual spring reverb units from the 1970's.  They sound great.  If you pulse them, they even "sploing".  The only thing they can't do is react to physically kicking your module to shake the springs.
The Flanger and Slocum Phaser have a cool feature that allows the Depth knob and CV input to have manual control when the Speed knob is fully counter-clockwise.  You can also select between 4, 6, 8 or 10 phase stages on the Slocum Phaser.
Some programs have stereo inputs, some are summed L + R to mono before hitting the effects, and some have different effects on the L & R channels.  Play, play, play – and enjoy!
Since effects and feedback settings can conspire to overload the 1350 module, there's "CLIP" LED on the front panel.  Depending on the signal source, a bit of input attenuation might be required to keep things from getting out of hand.  Here's a trick you can use to control the input level – Plug your audio input into the FB_IN inputs instead of the SIG_IN.  You can then use the FEEDBACK control as an attenuator.  Cool, huh?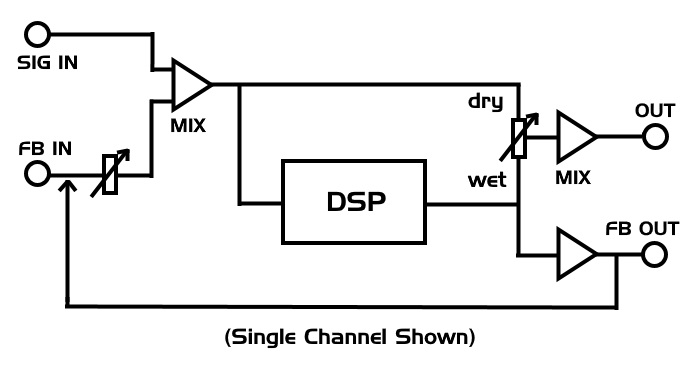 Be sure to check out our demos tab.